Genoa, Italy
Cruises from Genoa depart year-round.
Italy's largest port is often described as a city of layers. The lower layer is the harbor area with its ships, dance halls and bars; the middle layer comprises the colorful shops and restaurants, the opera house and the Via Garibaldi; and the upper layer is a crest of hills etched with winding roads. Most city tours visit the house where Christopher Columbus was born, the Cathedral of San Lorenzo and the largest medieval quarter in Europe.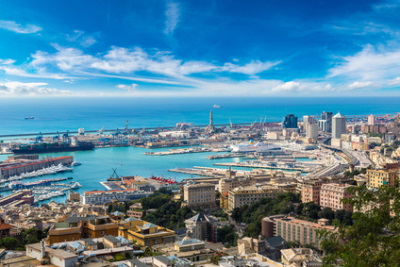 Language: Italian
Currency: Euro (EUR)
Driving Directions and Parking Information
Pier Terminal Andria Doria
Driving from Malpensa: Take highway to Milano (50-60 Km). Follow signs and exit at Genova-Bologna. Follow signs to exit indicating Genoa. The exit for the port is Genova Ovest. There is a toll at this exit. Follow signs that say Porto and this will take you to the port.
Driving from Genoa: Take highway indicating Genova. Exit at Genova Ovest. Follow signs that say Port. This will take you to the port. Pier Terminal Andria Doria.
Genoa, Italy Weather
Jan
Feb
Mar
Apr
May
Jun
Jul
Aug
Sep
Oct
Nov
Dec
High
52
53
57
61
68
74
80
81
76
67
58
54
Low
42
43
47
51
58
64
70
70
65
57
49
44
Jan
Feb
Mar
Apr
May
Jun
Jul
Aug
Sep
Oct
Nov
Dec
High
11
12
14
16
20
23
27
27
24
19
14
12
Low
6
6
8
11
14
18
21
21
18
14
9
7
Jan
Feb
Mar
Apr
May
Jun
Jul
Aug
Sep
Oct
Nov
Dec
Days
13
10
12
13
14
10
8
9
10
14
13
12
Jan
Feb
Mar
Apr
May
Jun
Jul
Aug
Sep
Oct
Nov
Dec
Percent
65
66
70
72
73
73
70
71
72
72
68
66